CHEVY CHASE, MD–February 14, 2017–WeddingWire, Inc., the leading online marketplace connecting consumers with event and creative professionals, announced today that newlyweds have shared the love and submitted over three million reviews, helping WeddingWire to surpass its own record in holding the largest number of reviews on any wedding and event industry site. This achievement is significant as researching vendors and reading reviews is a critical first step for many couples in their wedding planning process. By showcasing these reviews, WeddingWire is providing insight and information to engaged couples across the country, empowering them to make the best choice when it comes to selecting their wedding vendor teams and instilling confidence in their decision-making. The 3,000,000 reviews represent feedback from newlyweds' real experiences partnering with wedding professionals, from wedding venues and wedding photographers, to wedding florists and beyond.
"Here at WeddingWire, we have a strong commitment to transparency and a deep understanding of the importance and impact reviews can have not only on consumers, but also businesses," said Timothy Chi, CEO, WeddingWire. "We're thrilled that our users have helped us to achieve this milestone and contributed to our community in such a meaningful way. By submitting reviews, newlyweds are providing invaluable information to future engaged couples and feedback that helps to improve the wedding industry as a whole."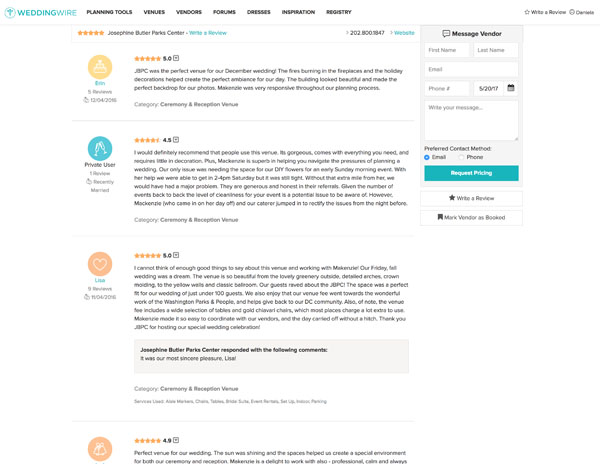 "More often than not, I find that couples have already done their research about which wedding vendors they would like to contact, and attribute it to reading online reviews first," said Bernadette Stephen McRae of Diamond Custom Floral in Seattle, Washington. "They tell me reading excellent reviews from actual couples who have previously navigated the wedding vendor list helps them expedite the the selection process. The first comment I usually hear from a potential client is 'I contacted you because your reviews on WeddingWire are excellent."
WeddingWire encourages wedding professionals to take part in the review process and works to educate them on the importance and relevance of reviews to today's couples. WeddingWire understands the impact reviews can have on the advancement of businesses, big or small, so it proudly supports and distinguishes reviews through several programs. WeddingWire's annual Couples' Choice AwardsⓇ, recognizes the top five percent of local wedding professionals, determined by reviews from WeddingWire newlyweds, and WeddingWire Rated™ instantly recognizes wedding professionals' commitment to collecting feedback from clients. Professionals can also utilize WeddingWire's Review Collector Tool to send personalized emails to clients and track the status of their reviews right in their WeddingWire account.
WeddingWire provides a platform that is simple to use where couples can share their experiences with the vendors they hired," said Reverend Marty Younkin of LoveNotes Weddings in Dallas, Texas. "Reviews are the lifeline of our business. And, they keep us on our toes to maintain the highest level of performance possible."