This is the Transcript of the #WeddingMarket Chat on May 6th, 2015 with Angela Proffitt productivity coach. The answers were made on Twitter so responses will appear different.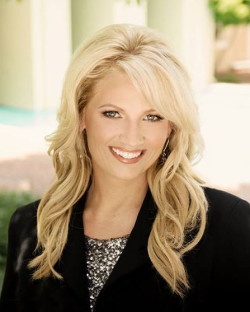 Angela Proffitt has established herself as the leading Productivity Coach in the wedding
& event industry by using technology & effective communication.  She travels the world sharing
her experiences on how to implement these
tools to help achieve results to fast track your business, maximize output, and sync your business and clients.
See more of Angela Proffitt at www.AngelaProffitt.com
Q1: How did you get involved with the wedding industry?
Answer
Angela Proffitt: By accident; I liked to plan & decorate for fun and did it for my friends, family and parents church. Two Years later, by word of mouth, I found myself doing weddings all over Nashville. I joined professional organizations, after getting my business license & insurance, networked with vendors. And fast forward 13 yrs and the rest is history! I was born to do what I do!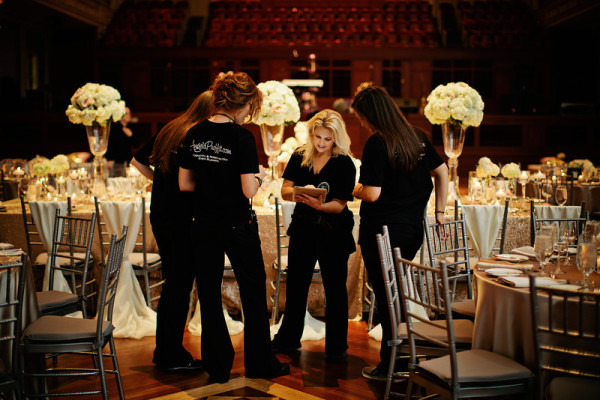 Q2: How did your book "A Planners Must Have Apps" come about?
Answer
Angela Proffitt:  I've always operated paperless; for lots of reasons Less clutter, I don't lose anything-it's all backed up. It reduces emails, miscommunication and clients love having access to their documents with a click of a button. Vendors started asking me how I operate paperless and after repeating myself over and over I put out a book. The book has the apps we use in the office to remain paperless and communicate with all clients and vendors.  Disclosure: I'm an Apple user so when mentioning apps, I know are available in APP store for iPhone.
Q3: What are the most important app for scheduling appointments, to do list and event due dates?
Answer
Angela Proffitt: Scheduling appts: we use InfusionSoft for software; the app that goes with this is Schedule Once. Todo list: wunderlist (free). It's so easy to use & I share a list w/ each team member & assign due dates.  Event due dates: Apple iCal, as well as InfusionSoft and we name our clients folders in Dropbox by date.
Q4: What apps are good for helping with business expenses?
Answer
Angela Proffitt:  We use Evernote and have a receipts folder; take a picture of receipts and name them. I can share that folder with your accountant. Expensify is great if you don't have an accountant. It will add your expenses for you and categorize them. Quickbooks is a great way to track expenses and invoice clients.
Tip: do your expenses monthly; don't wait until tax time and become overwhelmed.
Tip 2: organize your credit cards separately: business and personal to keep your accounting nice & clean.
Q5: What are the best apps for office tasks?
Answer
Angela Proffitt:  Wunderlist best for us. InfusionSoft has a task management list but it's more than one click to get to on iphone. I prefer to use apps that are less than two clicks and that sync and backup to s cloud based service. Trello is another good one.
Q6: What are the best social media apps?
Answer
Angela Proffitt: Love Hootsuite to schedule posts on most platforms so you only have to do it once. Messenger for Facebook messages; helps keep up with them. Pages for Facebook to again, manage messages. Pinterest comes in handy to view clients boards quickly on the go from my phone and iPad. Instagram, Twitter, linked in, Google Plus, Tumbler and others social apps will help to have on your phone.
@CharcoalEvents Always found Hoot Suite too complicated. @buffer is my go-to for scheduling! Simple to understand stats too!
Angela Proffitt: Cool I will check that one out:) Thx for sharing!
Q7:  Is there an app to save passwords?
Answer
Angela Proffitt:   1Password is amazing. It encrypts passwords 4 safety. You do have to purchase for all devices but worth every penny. Download the extension for your browser and the "key" unlocks passwords & stores credit card info to make shopping easier.
Tip; Never use the same password for everything. Makes it so easy for hackers to steal your identity.  Don't waste brain space on trying to remember passwords; Let 1password do it for you!
Q8: What apps are the best to store files? Least expensive?
Answer
Angela Proffitt:  Google Drive for documents that are being edited frequently. Having a method in naming your folders and files is key. So when you access your files on your phone the files are easy to find. We share documents via Google Drive with clients and they love feeling engaged when doing a phone/Skype meeting.  To edit on the go you will need Sheets and Docs on your phone. Dropbox is great for storing files. But I don't edit in Dropbox.
Q9: What are the best apps for faxing or signing contracts?
Answer
Angela Proffitt:   eFax is great app for faxing. Signing contracts: hello sign & sign easy (I like to sync client docs with Dropbox so look for that function to save time). Tip: check with your local accountant for e-contracts and what is accepting in your state or country in which you do business. For scanning I love genius scan; it synced with Dropbox and you can name the document from your phone.
@TaylorWed Did I miss if digital contracts are binding? I didn't see if the question was posted.
Angela Proffitt: Check with a local attorney or accountant; all three apps I posted about are binding in the state of TN where my home base is:).
Q10: Are there app to keep track of number of business hours worked or mileage?
Answer
Angela Proffitt:  For tracking hours, I highly recommend, Hours Keeper The app creates quick invoices- you can directly email to clients. For mileage Trip Miles is good. My car stores my mileage by trip so I don't use an app for that currently.
@ATXMichele Doesn't expensify do that too?
Angela Proffitt: I haven't used Expensify for hours keeping and invoices; may do that too:) So much to keep up with!
Q11: What about apps for phone calls or voicemail?
Answer
Angela Proffitt:  YouMail (free version) is my favorite; it addresses my callers by first name (if person is in your address book) Love the "forward" feature; I can email message to my asst. -she can respond quickly when I'm in meetings or traveling. YouMail has a business app that has a small cost and you can read your voicemails which can be beneficial.  We use Grasshopper for our 800 # that rings to cell phones (you choose extensions and what number the calls go to).
Q12: What are some of newest cool apps out?  
Answer
Angela Proffitt:   New Good Notes for iPad is amazing; we import all PDFs into this app and run our timelines on it. SaneBox helps prioritize emails and train your email inbox to filter certain addresses. Evernote Scannable allows you to take a pic of business cards and download directly to your contacts.
Q13: What are some the unusual apps out there?
Answer
Angela Proffitt:  What's App- 2 text worldwide for free on wifi; the people your texting must have the app too; plan ahead. I love Road Ninga when traveling; it tells me what is coming up at the next exits such as food and gas. Radar Scope is excellent for outdoor events; tells you exact weather where you are standing; watch the tutorials Hippo Lite turns your phone into a mouse and keyboard when connecting it to a display.
Q14: What types of apps are out there for photo and video editing?
Answer
Angela Proffitt:  iWatermark is great to add your logo to a picture before posting it online. PS Express is great for editing a picture from your phone on the go. iMovie is the most well-known; now you can use on the iPhone to edit video. Video Craft is great too.
Q15: What about apps for business marketing?
Answer
Angela Proffitt:  iBook Author (it's free) to create beautiful one sheets and menu of services. You can publish on iTunes for free. Google Analytics is critical (free) to know if your marketing $$ are being allocated well. Knowing your ROI is so important. Facebook is highly rated for targeting a specific audience you can market to online.
@MetroDCDJs Will this also allow us to publish books?
Angela Proffitt: Yes, iBook Author allows u to publish on iTunes in PDF format for digital download; You can also do a hard copy for sale too:)
Q16: Where can they find your book?
Answer
Angela Proffitt:  http://www.angelaproffitt.com/blog/books/ also on iTunes and Amazon. The book is available for download (paperless option) or paperback to be mailed to you. I also travel and host hands on workshops helping companies sync their electronics to work for them. Also offer a coaching program where you can ask ?s; lots of guidance and videos showing you how to implement and trouble shoot.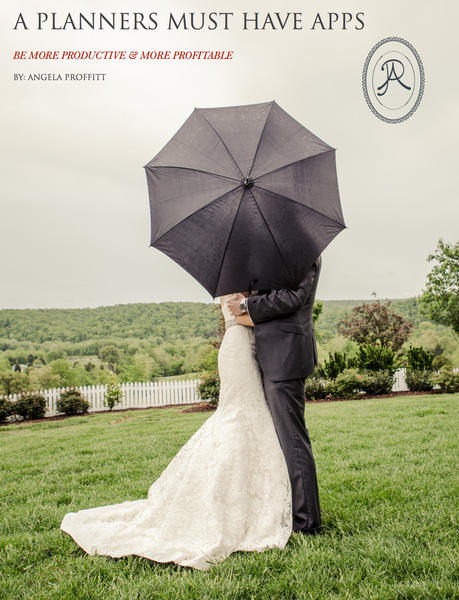 Q17: What would you like everyone to take from this #WeddingMarket Chat?
Answer
Angela Proffitt: Humans don't like change, but be proactive & embrace how lucky we are to have the technology opportunities. Going paperless = productivity = more profitability. Going paperless doesn't happen overnight. Set weekly goals. Instead of reaching for pen and paper, use your phone. I have free videos that can help https://vimeo.com/channels/594230 Be sure to back up your files, and don't think "it won't happen" to me!
#WeddingMarket Questions From Twitter:
@BridalBalance Are there any apps you recommend to engaged couples?
Angela Proffitt: For planning purposes? There's two I love; WedPics & Wedding Party 4 pics.
@TaylorWed Do you have a paper backup of anything – you know – just in case?
Angela Proffitt: No; I have multiple back ups; in dropbox, google drive, carbonite and time capsule, so no need for paper:)
@FrillsBridal Are clients ever resistant to doing all of their business w/ you thru apps? if so, how do you get them on board?
Angela Proffitt: Great! No because I train them on how to do it all; and they love the security of having everything at their finger tips backed up!
@ATCMichele Does anyone have an app to use to schedule for Instagram and Pinterest posts?
Angela Proffitt: Not that I know of; I am watching for that; both companies prefer exclusivity for now:( Not very productive! LOL
@SYTInvitations Hoosuite does instagram. I connect instagram with twitter and twitter with pinterest.
Angela Profitt: Great idea!
@CharcoalEvents You can schedule Pinterest with @buffer now. No Instagram scheduling yet.
Angela Proffitt: SO awesome to know!! Yay!!
@MetroDCDJs What apps are out there that are similar to Constant Contact?
Angela Proffitt: There is a company called MyEmma that is similar; but I use InfusionSoft; its overwhelming at first; but amazing!
@Caseyfphoto Photographers MailChimp – better than constant contact.
Angela Proffitt: I agree; mailchimp does offer a few more features than Constant Contact!
@WedProItaly What hardware are you using? All Apple or do you diversity?
Angela Proffitt: Apple all the way baby; it kills your productivity when you don't sync ur devices across the board! Even clients without apple can still access Dropbox and Google Drive, so they are golden, but Apple is better for planning:)
@WedProItaly What email client do you use?
Angela Proffitt: MacMail and I live by the flagging system with my team and we use SaneBox to control the level of priority:)
@WedProItaly I ask about your email client to know if Sanebox works with Mac Mail … my big dilemna is emails!
Angela Proffitt: Yes we use SaneBox w/ MacMail; If you use dropbox & Google Drive to share with clients it decreased our emails by hundreds a day!
@TaylorWed Have you heard of Ways App for traveling? Tells you where accidents, traffic delays and police are!
Angela Proffitt: Yes that one is awesome:) I love Escort Live, Traffic View, Beat The Traffic, Trapster and INRIX Traffic! I travel too much, right!
@DreamyWeddings What are the apps you use to share files with your clients?
Angela Proffitt: Dropbox for pics and quotes (PDFs) and Google Drive to edit their budget and timeline. Sign Easy to sign contracts! Most every app I use is free:) Some apps have a free version and some are paid, but ones I use all very worth the $!
@AubresBridal Is there an app you use for scheduling all of your social media?
Angela Proffitt: I love @SproutSocial; great thought:)