NEW YORK, Nov. 1, 2017 /PRNewswire/ — Today, The Knot, the patented wedding service, launches an essential wedding planning experience that will transform the way couples plan their weddings. Combining the expertise and data from more than two decades and an estimated 25 million weddings planned, The Knot now offers a dynamic, highly personalized, interconnected experience unlike anything else on the market. Couples can rely on The Knot to help them define and articulate their wedding style, recommend just the right local professionals, and manage all their guest experiences and wedding registries in one place. Best of all, The Knot's smart technology works seamlessly behind-the-scenes to create a personalized wedding day timeline that serves as a minute-by-minute schedule for the couple, guests and vendors.
The Knot launches all-in-one planning experience that defines and articulates a couple's wedding style, recommends just the right local professionals, and manages all their guest experiences and wedding registries in one place. "We're proud to offer every engaged couple in America an indispensable wedding planning experience that brings our best-in-class tools and smart technology together into one solution—the ultimate wedding planner," said Mike Steib, CEO of XO Group, which owns The Knot.
The Knot's new wedding planning experience, within its #1-rated
app and on TheKnot.com, continues to support its two-sided marketplace that seamlessly connects and matches couples with over 300,000 local wedding professionals. Smart vendor recommendations are provided to couples throughout their planning journey, helping professionals, like wedding venues, planners and photographers, qualify leads more quickly and build even deeper relationships with couples.
The Knot All-in-One Planner includes:
Style Quiz & Wedding Vision. The Knot Style Quiz walks couples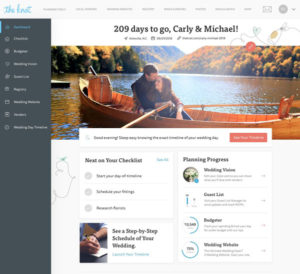 through a selection of inspirational wedding photos asking for their likes and dislikes. After analyzing the couple's choices, The Knot defines their unique style, e.g. rustic with a bit of romantic and a touch of retro, and creates a personalized Wedding Vision with their defined style, color palette suggestions, inspiration and more.
Local Vendor Recommendations. Based on the couple's personal style, The Knot provides vendor recommendations on the user's Wedding Vision and throughout their wedding planning experience. Couples can instantly share their Wedding Vision with vendors so nothing gets lost in translation—a plus for both couples and vendors. Wedding professionals can now make connections faster and easier by knowing what the couple is looking for and how to tailor their conversation before even connecting.
Guest List & Registry Management. The Knot offers a full guest management system starting with the personalized wedding website. Couples can choose from hundreds of free wedding website designs from Kate Spade and Oscar de la Renta by Paperless Post and more. The Knot also makes it easy to create a guest list, collect addresses and manage RSVPs for every wedding-related event all within the app. Ready to register? Couples can create and manage all their registries—whether retail, charity or cash—and easily share with guests.
Wedding Day Timeline. As couples share their wedding details, The Knot works harmoniously behind-the-scenes to create a completely customized wedding day timeline. From vendor arrival times (along with their contact information), to a minute-by-minute sequence and day-of happenings, the timeline serves as the must-have resource for the wedding weekend.
Smart Technology. The all-in-one planner is smart, personalized and connected. It will never ask a user the same question twice and seamlessly integrates the couple's wedding details into all of its tools—from the vendor list and wedding website to the wedding day timeline. As couples confirm their wedding professionals, The Knot automatically checks them off their planning checklist and recommends the next important task to tackle.
To celebrate this launch, The Knot will bring one lucky couple's vision to life in The Knot 2018 Dream Wedding. Beginning in January 2018, couples who take The Knot Style Quiz and submit their Wedding Vision to [email protected], will be entered for a chance to be selected as The Knot 2018 Dream Wedding couple and receive an all-expenses paid wedding.