FORT LEE, N.J., Feb. 6, 2017 /PRNewswire/ — MyRegistry.com, the world's leading universal gift registry provider, announced today it launched a universal gift registry software solution to give small retailers a competitive edge in the 35 billion dollar gifting industry.
According to MyRegistry.com President Nancy Lee, "Small retailers have faced the uphill battle of getting exposure in the shadow of big box retailers for years." She added, "Unless a retailer sells a bit of everything, people aren't going to register with them. It's not that customers don't want items from their stores—they do, but it's more about the perception of having too many registries. Registrants don't want to appear greedy."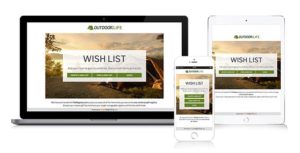 The universal gift registry solution MyRegistry.com provides helps to level the playing field for the small retailers. To give the boutique digital storefronts better visibility, the team at MyRegistry.com developed a software solution so simple, it's called Plug & Play. Basically, it "plugs" right into the retailer's website. Compatible with all major website platforms and completely customizable, it's the easiest way for small retailers to gain more customers and revenue, according to Nancy.
MyRegistry's software is great for registrants, too. It gives them the flexibility to add gifts from any store in the world and keep track of everything on one list, in one convenient place. Since the items are added to a registrant's universal gift list on MyRegistry.com, retailers can expect to reach a new audience of buyers — those purchasing the gifts. Larger retailers already using the company's universal gift registry platform report that, on average, 62% of registry sales come from new customers.
"The software is perfect for small retailers with merchandise that appeals to those planning a wedding, expecting parents, and people looking to create a Wish List for any occasion, including holidays, birthdays, anniversaries, housewarmings, etc.," Nancy said.
Another benefit of the MyRegistry.com software is that it can be customized for any brand—and fast! Plus, retailers can log into a personalized dashboard where they'll find data to help them better market their products and their registry. The software comes with optional tech support to help the retailer get started and keep it going. And, as the leader in the marketplace, MyRegistry updates its software every week, so its retailers always have the latest, cutting-edge technology.
For more information on MyRegistry's universal gift registry software, click here.