Wedding pros were set to arrive for the Wedding MBA on Monday, October 2nd in Las Vegas.  Many wedding pros came in early for the conference and some stayed At the Mandalay Bay like DJ Brian Buonassissi.  Brian shares in our interview what happened at Mandalay Bay the night of the shooting.
On Monday, the Wedding MBA announced on their Facebook page that the conference would go on as scheduled. Many wedding pros arrived at the Las Vegas Convention Center with heavy hearts.  Sarah Campbell shared her thoughts on the Wedding MBA group on Facebook. "Monday, my heart was full as I watched what seemed like over 100 attendees get up and leave the opening session in the floral room. What would normally have felt like a failure, instead inspired and encouraged us all. These designers got up and walked around the convention center to the location that the families of the victim's were being sent to do what we as designers do best. Working under the direction of Sue Davis of Fresh Designs Florist they created this heart warming floral installation."
The flowers were donated by Mayesh Wholesale Florist, a global company with a warehouse in Las Vegas.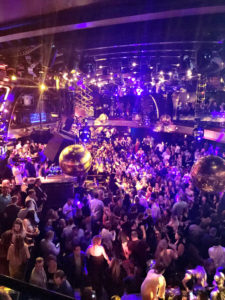 Brian Buonassissi was scheduled to DJ the party for The Knot at Mandalay Bay Tuesday night.  The Knot canceled the event. WeddingWire and The Knot joined forces to hold a party on Tuesday night in support of the Las Vegas victims and community. Not one but two DJs Jason Jason and Brian Buonassissi hosted the joint event.  The Knot and WeddingWire donated $5 per attendee to the Las Vegas Victims' Fund, totaling $16,000 on top of attendee donations!  You can still donate money here.  It was amazing to see how the wedding industry came together to help in Las Vegas.