What is a Doob?
A doob is a 3D printed replica of you, your friends or loved ones; often times even pets.  They capture our loves and passions, and are perfect for celebrating life's special moments.
What year was the business started?
Doob started in Dusseldorf, Germany in 2012, and launched internationally in the USA and Japan in 2014.
How did the company idea come about?  What was the most difficult part in starting the business?
Doob originally started in the medical industry, but, on a whim, the founders offered the opportunity to create 3D "selfie" figurines, and it was a hit!
Doob is such a new product in the market that customers don't always know what to do with it. That's why the wedding market has been so wonderful. The use is so obvious and it's the perfect way to remember such a special day for a lifetime.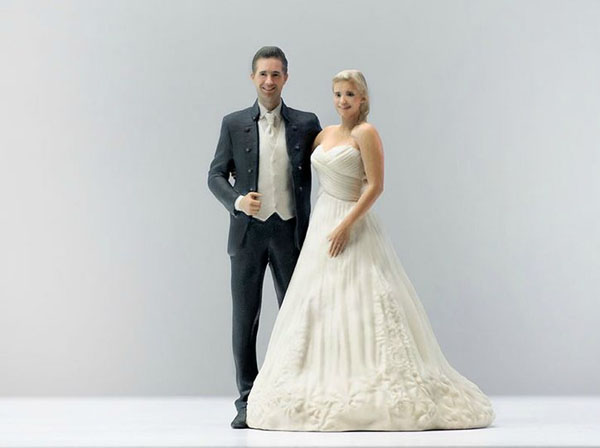 How do couples getting married usually use your service?
Couples frequently doob their engagement, often creating figurines of one person down on one knee and the other gleeful.
Couples create cake topper replicas of themselves and sometimes include additional figurines of their children or beloved pets.
Couples often doob themselves in their wedding apparel along with their entire wedding party to capture a lasting 3D figurine set of their special day.
As gifts, couples give their doob figurines to their wedding party and to their guests.
What is the process for a couple to obtain their 3D printed replica?
The process is simple but extraordinary. The couple makes an hour appointment at one of Doob's four store locations in New York, San Francisco, and Los Angeles. Under the guidance of a doob expert technician, the couple creates a pose that best expresses their relationship and makes a great 3D doob figurine.
The couple steps into the 3D scanner, the dooblicator. The dooblicator is an octagon-shaped booth with 54 digital cameras, precisely placed from head to toe, that captures a 360-degree image in a flash.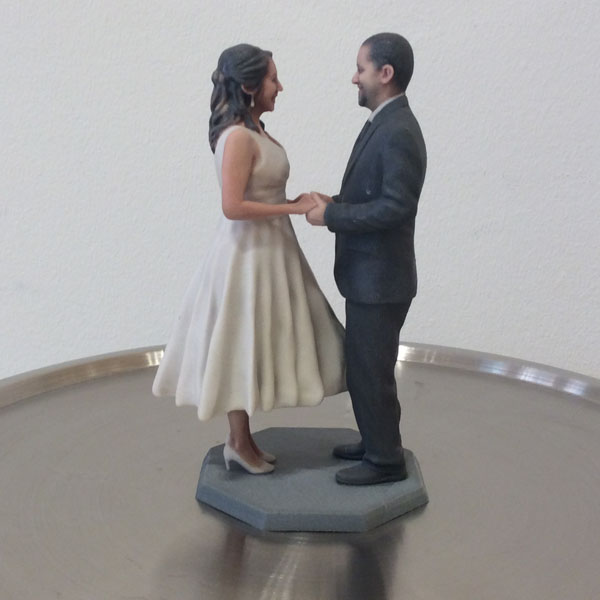 The technology process called photogrammetry and doob's proprietary data-processing software will make the couples' image into a 3D model that will be printed in doob's production facility in Industry City, Brooklyn. After around 3 weeks, the couple will receive their 3D replica figurine in the mail.
Where are you located in the US?
We have locations in NYC, Los Angeles and San Francisco.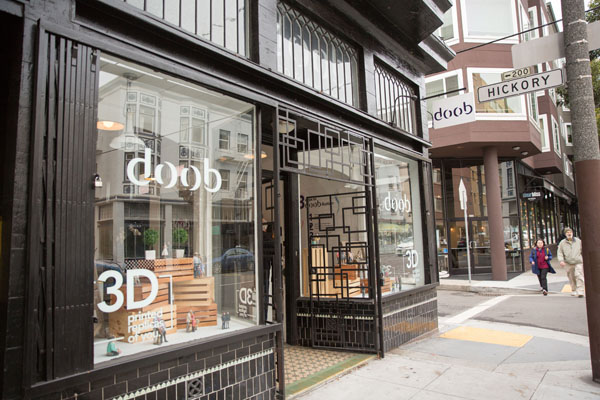 How much does the service typically cost?
For a couple, doob figurines start at $180 for two four-inch figurines. Typically, couples opt for the taller sizes, ranging from eight- to ten-inches in size and $590 and $790 in price. Individual doob figurine prices per size are 4" $95; 6" $195; 8" $295; 10" $395; 14" $695. Accessories and intricate apparel are extra.
What type of technology is used to create the 3D replica?
Doob offers the only full-service pipeline for 3D imaging, software, modeling, and printing. The image is created through a technology process called photogrammetry and doob's proprietary software renders a 3D model that can be printed in a doob 3D printing facility. Doob's printing is an industrial additive manufacturing process that uses a polymer resin and ink to build, bond, and color the figurine.
What would you like wedding professionals to know about the product?
Doob offers a unique opportunity for their clients to personalize their wedding and to capture their day.  From 3D "selfie" cake-toppers to a figurine set of their wedding party, doob helps couples create artistic 3D figurines out of moments they want to last for a lifetime.