On June 29th G&C Arbor Investors filed a complaint against Alfred Angelo for tenant eviction and damages for their corporate offices. Alfred Angelo's Board Of Directors held a meeting to take steps to file bankruptcy on July 10, 2017. Three days later, Alfred Angelo files for Chapter 7 bankruptcy.
If you look at the voluntary petition bankruptcy form, Alfred Angelo lists fewer than 50,000 in assets and liabilities between $50 and $100 million. Some employees were told they were fired at 10am on Thursday, July 13th  One employee was shipping packages at Fedex the next day (July 14th) when the company filed for Chapter 7. On Sunday, they posted the following information on their Website.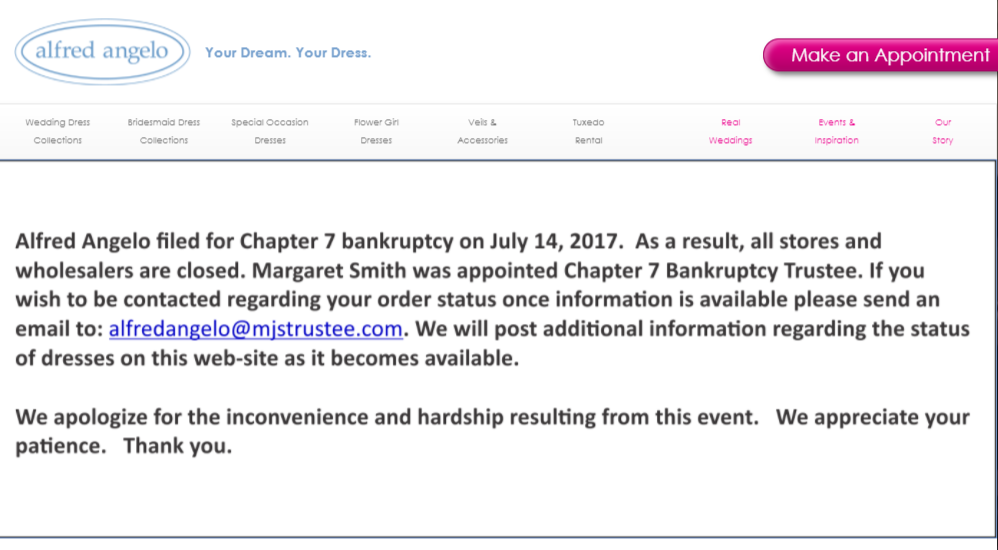 Some customers were able to pick up their dresses Thursday and Friday of that week at the stores, even though the employees who came in knew they wouldn't get paid.  Why would any employees ship any dresses? Some brides might receive dresses by Fedex that week if employees did what they were told. I talked to one employee on Friday who was shipping packages. Former brides are shipping their gowns to brides with the correct size at no charge. Bridesmaids are setting up GoFundMe to raise money for their friend's dress.
Brides and bridesmaids impacted by the closures can visit any David's Bridal location in the U.S. and, upon presentation of their original branded Alfred Angelo receipt, will be offered:
bridal gowns/dresses: 30% off the current price
(This includes current promotion price and clearance price.)
bridesmaid dresses: 20% off the current price
(This includes current promotion price and clearance price.)
alterations:
Rush fees on alterations will be waived to help meet event dates with a tight timeframe.
Alterations services will be available for Alfred Angelo dresses (regular pricing applies)
David's Bridal will extend this offer until August 14, 2017. David Tutera for Gather and Gown is offering 30% off all 8,322 in-stock bridesmaid dresses.
Alfred Angelo employees were told they weren't able to talk about the closing. The Alfred Angelo retailers are contacting other stores and using groups on Facebook to help their brides. One unnamed employee from corporate said,  "I can assure you, the owners could have avoided this."
The Tampa Bay Times reported that Redmond the trustee for the Alfred Angelo case, said
"Top creditors are Czech Asset Management of Connecticut, a portfolio company, for $54 million; and CardConnect, a credit card processor for up to $5 million. After that, there will likely be dress manufacturers in China filing claims", said Redmond.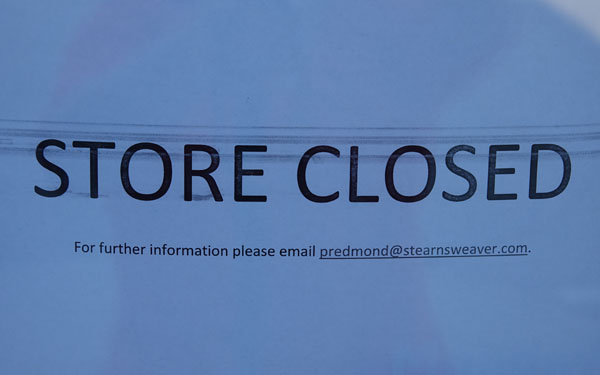 Redmond's email address has been placed on several store closed signs as the contact for more information.  The Miami Herald shared that Redmond has obtained over 7,000 emails from brides about their dresses. She appears to be placing brides with the latest wedding dates first, which includes two weddings from this past Saturday.
Patricia Redmond is a bankruptcy lawyer at Stearns Weaver Miller and people ask, "What will she be able to do with an incoming shipment of dresses coming from China worth 1.2 million dollars? Will it go to creditors or brides?"
Look for Wedding Market to have more stories and upcoming interviews on Facebook Live.